Steel Plate Rolling
Since the start of our storage tank manufacture business, we has been servicing steel pre-process. With advanced CNC rolling machines, we specialized in steel rolling of all structure shapes for the manufacture of storage tank and tank accessories, including steel plate rolling, channel rolling, rectangular pipe rolling, beam rolling, angle rolling, tees rolling, pipe and tube rolling and rails rolling, working with materials from carbon steel, stainless steel, to HARDOX® wear plate, ATM-A572 plate, ASTM-A36 plate, and ASTM-A29 plate are also available.
Our engineer team is made up of experienced experts in steel pre-process for storage tank manufacture. By understanding the physics and chemistry characteristics of the materials we used for storage tank, we can predict what the material will react because of the pressure caused by rolling. Both hot roll and cold roll can be provided according to the characteristics and applications of your material. What's more, we offer ASME welding and documents for you to choose weld seams and re-roll to size /roundness, and supply ASME Code Partial Data Reports.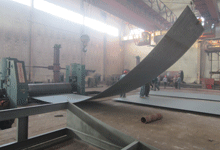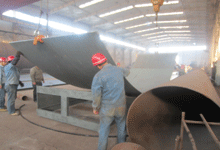 Steel Plate Rolling Process
The Steel Plate is Rolled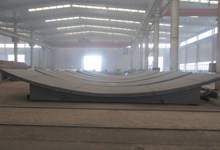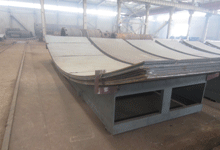 Finished Steel Plate
Steel Plate and Bracket
Our latest technology and dedicated development and operation team can guarantee your material be processed within your requested tolerances and delivered to you on time and in time. Rich experiences and unique steel rolling equipment make us the ideal choice of OEMs, and terminal users. If you are looking for a reliable manufacturer for your steel cutting, rolling, and other value-added service, please feel free to contact us at any time, we will offer you a satisfy answer.
If you're interested in our products or have any questions, please click here to contact us! We are always at your service!