Grain Storage Silo
Grain silo introduction
We offer a range of grain silos for the storage of all cereal crops. That means grain silo is a large container that used to store agricultural products like rice, corn, wheat, soybean, barley, sorghum, sunflower seeds, palm kernel, buckwheat, millet, bran, peas, beans, rapeseeds, beet seeds, peanut, rye seeds, flour, feed, minor cereals, and other bulk granular crops, etc. It is also can be called grain bin, grain storage silo. Generally, the raw material of grain silo is wide, among the different type of silos, spiral steel silo is the most popular one to store grain because of the good sealing property and waterproofness.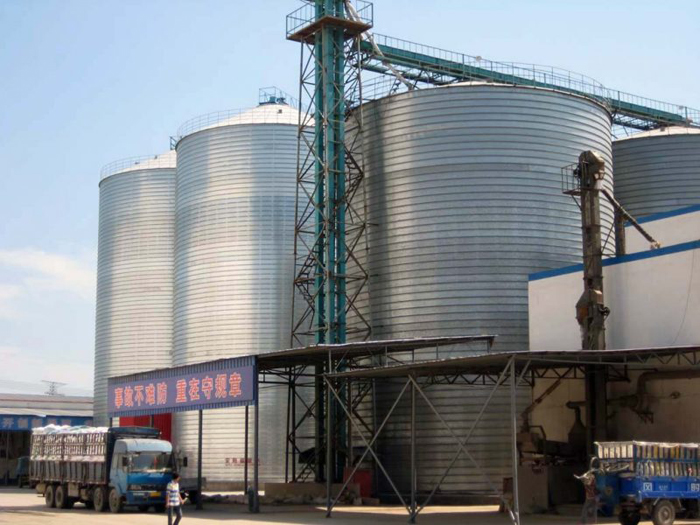 Choosing the right storage silo is the primary task of grain storage. Our silos are protected against moisture, insects and rodents, facilitating the input and output of food. The silo is well sealed and waterproof, ensuring that the grain does not deteriorate. We offer a wide range of galvanized steel silos for food storage and complete storage solutions and installations for the agricultural markets around the world. After decades of experience in warehousing design and manufacturing, our grain silos provide customers with great convenience and high economic returns. We can design and customize silos according to your needs.
In order to meet the needs of grain storage, steel silos are easy to control the temperature and humidity in the granary, effectively preventing food spoilage. Some people build concrete silos to store food. However, concrete silos weigh 6-10 times as much as steel silos. In order to store the same volume of grain, the investment in the steel silo is only half that of the concrete silo. We are right using steel grain silos, and our granaries can help customers save a lot of money. The grain storage silos are made of high-quality galvanized steel sheets with a service life of 30 years and never rust. Our grain silos are suitable for grain depots, feed mills, oil plants, farms, etc.
How to store grain with grain silos?
Impurities in the grain should be removed as much as possible before storage. Winnowing is usually used to remove impurities such as grain pests, straw, lentils, weed seeds, and sand. Make sure the grain is sufficiently dry before storing. Several common methods of grain storage are as follows:
Ordinary storage: the grain must be cleaned, then placed in a granary of appropriate temperature, sealed into the granary for import and export, to prevent pests and diseases, moisture, rodents and daily grain inspection.
Heat sealed storage: this method is high temperature storage in summer. After heat storage, the temperature of the grain rises to achieve the insecticidal effect.
Natural anoxic storage: natural anoxic storage is only suitable for newly harvested wheat. The storage method is as follows: Wash the fresh glutinous wheat and dry it in the sun as soon as possible. Dry wheat is placed in the granary within one week. Special attention should be paid to the rigor of the import and export of granaries. In the natural anoxic storage process, the import and export of the granary must be regularly investigated and checked to ensure that the entire granary is in good condition. If the seal is not tight or damaged, the effect of oxygen-deficient storage cannot be achieved.
From the above methods of grain storage, we can see that the special conditions that need to be met during the grain storage process are: grain storage environment, grain storage temperature, grain storage humidity, and grain storage seal. Our grain silo is just right for these requirements. Can bring you sustained good economic benefits.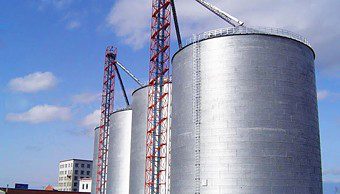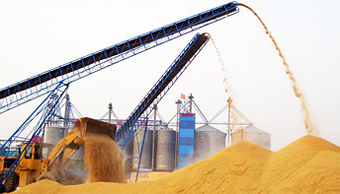 Grain silo advantages
Strong sealing: Our silo uses special bending equipment to ensure the quality of the parts of the silo during processing, and the silo is particularly well sealed. Therefore, the use of silo storage grain can better meet the process requirements of pesticides and fumigation.
Easy to operate: high degree of automation, advanced loading and unloading equipment, convenient operation and management.
Built-in temperature measuring device: The temperature measuring device is installed in the silo. When the temperature of the grain changes, a mobile air supply unit will be implemented for safe storage. Therefore, the silo becomes the safest, most effective and unaffected way of storing grain.
Highly respectful customer requirements: We offer a wide range of silos to eliminate the risk of pests and chemical residues, regardless of size, you get a robust and innovative product.
Grain storage management is a very tedious task, requiring workers to have a large amount of time to regularly check the grain storage situation. In addition, they should also consider the routine maintenance of the granary. Our silos can help save these tedious tasks, saving time and money.
Our company has experienced and well-managed professional installation team, granary is durable and easy to operate. We have a telephone service every three months to remind customers of problems that may arise during the use of steel storage silos and to collect opinions or suggestions on product quality and related services. We guarantee that we will arrive at the scene within 36 hours after receiving the feedback. So we are your ideal choice.