External floating roof tank
The floating roof of external floating roof tank is a top cover floats on the surface of liquid stored in the storage tank, it floats up and down with the input and output of the liquid. Generally, external floating roof tank is used for the storage of volatile petroleum products, such as crude oil, fuel oil, kerosene, etc. There is an annular space between the floating roof and storage tank wall, the annular space has a sealing device, so that the liquid in the storage tank can be isolated from the atmosphere when the floating roof floats up and down, greatly reducing the evaporation loss of liquid during storage. Compared with fixed roof storage tank, adopting an external floating roof tank to store oil products can reduce the evaporation loss about 80%.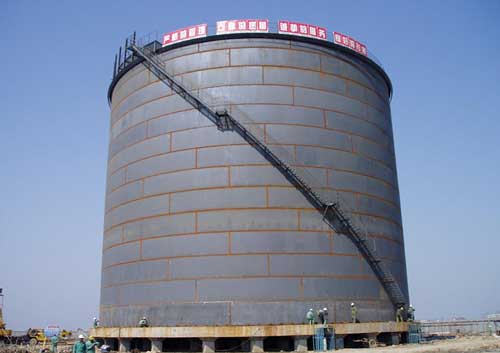 External floating roof floats up and down with the liquid surface. Compared with the fixed roof tank without a floating roof, there is no evaporation in a external floating roof tank, eliminating the so-called "big breath loss" in principle. The evaporation not only resulted in the loss of product quantity, but also effect the quality of oil product, more seriously, pollute the environment. When the mixture ratio of space flammable and air reaches a certain limit, it is easy to explode, thereby, it is a essential measurement to adopt a steel open top cylinder tank with a external floating roof when storing the evaporation oil products.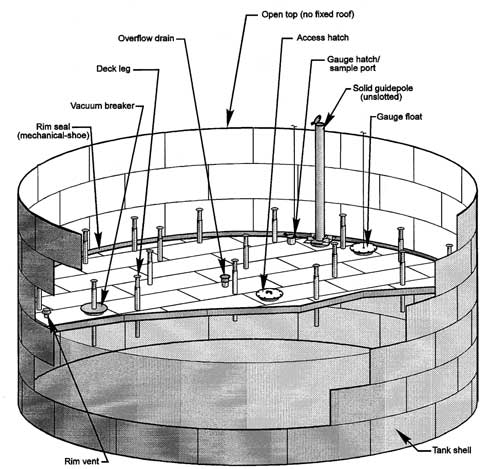 External floating roof tank design features
There is a 100mm-500mm gap between the external floating roof tank shell and external floating roof, so that to prevent the storage tank from chuck during the operation process.
External floating roof tank adopts the rim seal system, which can greatly reduce the rim evaporation.
Similar with internal floating roof tank, external floating roof tank also has various of types, steel tray type, floating cabin type, single or double deck type, even use a external floating roof with aluminum alloy sandwich structure. Single deck floating roof tank costs less than double deck, thereby the single deck floating roof tank is more popular.
Floating roof support legs are usually flexible and suspends in the liquid.
In most cases, there is a central drain system on the floating roof, so that to guarantee the snow and rain water can be discharged smoothly, avoiding the deck sinking accident.
External floating roof tank is suitable for large crude oil storage tanks, capacity is usually from 20,000m³, 30,000m³, 50,000m³ to 100,000m³.