Cement Silos
Cement silo introduction
Cement silo, also called cement storage silo, cement container or cement bin, is constructed for cement storage and distribution, widely used in cement production plants for storing cement. We will help customers to choose the most suitable design according to the product, spiral silos are our main cement silos. In order to cater to the requirements of construction, engineering and process industries, we built cement silos with unique manufacturing method, professional equipment, and mechanized operation. We adopt superior quality raw materials like galvanized steel coil as the raw material of cement silos with the capacity from 100 ton to 10,000 ton, these steel cement silos are offered in customized specifications as per the requirements of our clients. The materials and equipment are both easy to transport and ship internationally.


Due to the solid structure and durability of our cement storage silo, it is famous to all over the world. Our cement silos are on-site storage containers used to store and distribute various types of cement mixtures. The capacity and size of this silos are variety, which makes them ideal for use at many construction sites of cement plants. We are a professional manufacturer who offer high quality spiral cement silos with professional services from design, manufacture to install fitting according to the clients' requirements. There are two structures of cement silo can be relocated when necessary, one is a permanent structure, the other is a mobile model.
Permanent Cement Silos & Mobile Cement Silos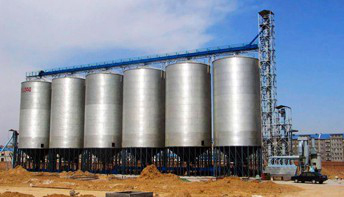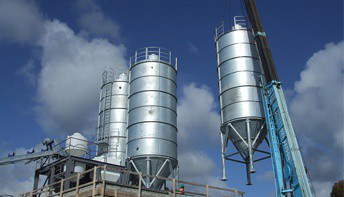 Whether it is a permanent cement silo or a mobile cement silo, it is usually equipped with some type of blower. The blower makes the product easier to discharge from the silo. Blower is usually powered by electricity, although some models use propane or even gasoline. Blower units with moving silos have a short installation time and are easy to store when not in use. It is important to note that the material and design of the cement silo is based on the type of cement product stored in the equipment. Not all types of building materials help prevent the agglomeration or absorption of various components of the cement mixture. For example, silos that protect soda powder ingredients may not work properly if lime powder is placed. With the composition of the concrete, the cement silo configuration will be slightly different products, identified as high performance concrete or self-compacting concrete.
Cement silo advantages
Long service life: The thickness of spiral seaming edge is five times thicker than that of the ordinary steel plate, which greatly strengthens the resistance of the loading and extends the service life of silos. What's more, the galvanized steel coil with the feature of corrosion resistant will guarantee the silo's long lifespan even under bad weather conditions. Besides, the durability of cement silo will reduce the maintenance cost.
Excellent material: high intense hot rolled double-sided galvanized coil is used to build cement silos. It has beautiful appearance, and guarantees the tank's stable structure, corrosion resistance, and high air tightness.
Short construction time: the spiral folding structure of cement silo allows to construct it on site. We have professional constructing equipment and experienced teams, can make the silo folding speed up to 3-5m/min, thus a cement storage silo with a capacity of 1000 tons could be completed within 5-7 days.
Low cost: compared with traditional storage tank construction, our cement silo constructing method requires less labors, less constructing time and less materials, and makes the construction process very cost-effective.
Moisture resistance: our silos are constructed by special bending equipment. Cement inside the silos can't be influenced by the outside environment like wind or rain. And good air-tightness can prevent cement from absorbing moisture from the air.
Wide range of cement silos' sizes: Flexible choices on dimensions are provided in a range of diameters from 3m to 28m, and a height of 35m in theory to meet various demands.
Little construction area: the minimum distance between the two silos can be 500mm, which can make full use of space and reduce the silo's covering area.
Advanced technology and equipment: high degree of automation, advanced handling equipment, great convenience for your operation and management. Our silos have strong technical strength and outstanding performance. They have been widely used in NSP cement production lines and their supporting grinding stations, and have achieved a large market share.
The advanced technology, the outstanding performance of our storage tanks and the professional constructing team have earned us a high reputation and renown in China.
As the business develops, we hope to expand our business overseas. Now we are ready to provide superior and economical storage solutions to our global customers.