Custom Storage Tank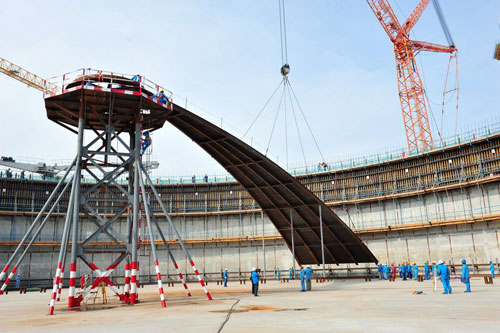 When you choose us for your custom storage tank, you will benefit form our decades of experiences and true specialist in custom storage tank fabrication, and will receive the best storage solution that is compatible with both your site condition and budget. Whether you need a floating roof tank, fixed roof tank, or dome roof tank for the applications of petroleum, chemical, water treatment, or other special requirements, we are ready to partner closely with you to provide custom storage tank services for one-stop turn-key project, ranging from design, raw material purchase, steel plate pre-process, to field construction, accessories installation, debugging, and after-sale service.
Custom Storage Tank Design
Engaging in storage tank design and manufacture for decades of years, we have attracted and gathered multiple of outstanding technical elite and excellent technical engineers, who is from the famous petrochemical equipment research and manufacturing units, and have engaged in the research, design and manufacture of large steel storage tanks for many years to take carefully to design your storage tank that can meet your own condition. So that we take pride in telling our customers that each of our custom storage tank is designed right for you.
Integrate China's Steel Raw Material Resources Just for Your Quality Custom Storage Tank
Because of the significance of purchased material to total cost, the quality of the purchased material is important and essential to the competitiveness of the manufacturing organization. This is why we pay great attention to the quality control of raw materials and establish a strict inspection rules into plant and supply-side evaluation system, all of our raw materials are supplied by the domestic and international renowned manufacturers. When you trust us for your custom storage tank, you will get China's best quality carbon steel, stainless steel, and various raw materials of accessories for your custom storage tank. We are doing this, and we will still commit to do this.
Custom storage tank manufacture
We are famous for our cost-effective OEM and turn-key project, we can process your storage tank as per your drawing or custom designed drawing for above ground tank, floating roof tank, fixed roof tank, crude oil tanks, chemical tank, water tank, etc. All tanks we build can meet various of standards like API650, GB50341, BS2654, JIS B8501, etc.
In our modern factory, a team of professional engineers adopt the most advanced numerical control plasma cutting machine for steel plate cutting, CNC steel plate rolling machine for plate rolling and hydraulic press brake machine for heavy plate rolling. We are proud to progress together with our customers, and we are constantly fabricating high quality storage tanks for giving our customer more than competitors, durable, strong stability and unique competitive advantage.
Custom storage tank installation
Installation is the last but most critical link for a storage tank project, more than twenty years of large custom storage tanks field construction experiences make us clearly understand the potential weaknesses of every link in the storage tank installation process, and we will build in safeguards from lay the foundation to the tank welding, from the accessories installation to the tank painting.