Diesel Storage Tank
Diesel Storage Tank Above Ground
As the name impact, aboveground diesel storage tank is installed on the ground, which means the fire protection system is more important, compared with underground diesel storage tank.
Our aboveground diesel storage tank capacity can up to 30,000,000 gallons. We also have a list of options to choose from for your custom requirements - single wall or double wall; pumps, valves, mayways, stairs, galvanized ladders and platforms, etc. certainly, the fire protection measure is also essential.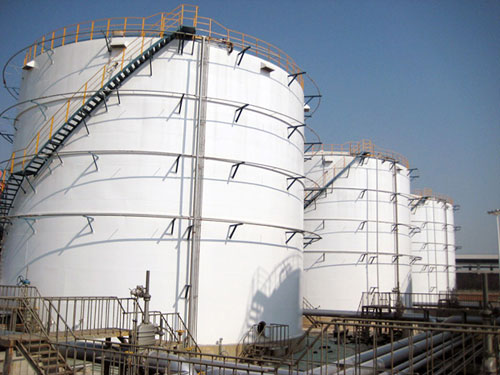 Diesel Storage Tank for sale with custom specification
Our diesel storage tank owns a wide range of specification to meet different using environment like the industry or the farm, whether you want a single wall or double wall diesel tank, we can manufacture the tank into a custom diesel storage tank that meet your site condition, volume requirements, and other particular specification. Though the diesel storage tanks come in various sizes and shapes, we have a diesel storage tank design standards range from 1,00 m³ to 200,000m³. The diesel storage tank also can be compartmental by setting a single or double bulkhead divider, in order to store multiple products in one tank. Other specific needs like fireguard, flame shield, as well as contain-A-tank, UL142 or STI F921 configurations are also available.
Diesel Storage Tank Specification
| | |
| --- | --- |
| Types | Aboveground |
| Shape | Cylinder |
| Capacity | 100 m³- 100,000m³ |
| Structure | Sigel Wall / Double Wall |
| Standards | UL142 |
| Others | Compartmental Tank |
| Configurations | Vertical |
| Material | Carbon Steel / Stainless Steel |
Diesel Storage Tank Regulations
For the purpose of environmental protection and safety in use, aboveground diesel storage tank regulations focus on preventing, controlling and cleaning up the accidental leakage. In some countries and regions, diesel storage tank needs to meet the local regulatory requirements. For example, in some states of America, the diesel storage tank must be registered.
We can install your storage tank with all accessories and equipments to fit your specific needs. We provide a wide range of accessories for you to choose from - pumps, valves, vents, nozzles, gauges, stairs, platforms. Inspection systems and fire protection system is also available. If you have any questions, please feel free to contact us.