Gasoline Storage Tanks
Quality Gasoline Storage Tanks for Sale
Gasoline is one of the most important fuels used by human beings, it is widely used for home as life fuel, for farms to drive agricultural machinery operation, certainly , also for transportation industry, one of the most widely used areas of diesel. As there are so many fields to use gasoline, that the bulk gasoline storage tanks demand is growing.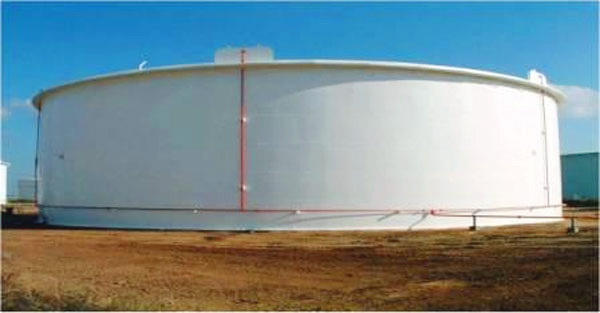 We understand this need and over the last decades of years we are constantly manufacturing the gasoline storage tanks larger and larger. Until today, our gasoline storage tanks have came in a various of capacities. Whether you want a 30,000 gallons or 30,000,000gallons gasoline storage tank, we can manufacture it for you with a wide range of specifications. And all of the tanks are made of high quality steel for a long service life. In addition, every gasoline storage tank can be built as the following options: UL 142 for single wall, standard gasoline storage tanks for API standard, or custom gasoline storage tanks for your own spec. If you wan to store a multiple products, we also can compartment the tank by setting a single or double bulkhead divider. The larger custom gasoline storage tanks are also available.
Gasoline Storage Tanks Specification
| Types | Shape | Capacity | Structure | Standards | Others | Configuration | Material |
| --- | --- | --- | --- | --- | --- | --- | --- |
| Aboveground | Cylinder | 30,000gallons up to 30,000,000 gallons | Sigel Wall / Double Wall | UL142 / API / custom | Compartmental Tank | Vertical | Carbon Steel / stainless steel |
Above Ground Gasoline Storage Tanks
Compared with underground gasoline storage tanks, above ground storage tanks have more advantages. As its name implies, an above ground storage tank is installed upon the ground, so it can have a larger volume to meet the storage requirements of bulk gasoline, while the construction technology is more simple and convenient, which can reduce the construction budget. What's more, increasing lows and regulations for environmental protection make us have to pay more attention on the oil storage safety, instead of underground storage, aboveground gasoline storage tank can help avoid the potential that the stored oil leak into the land.
Our aboveground gasoline storage tanks capacity can up to 30,000,000 gallons, whether you used for farms or gas station, we can provide you a wide range of specifications to meet your use requirements.
Internal Floating Roof Gasoline Storage Tanks
Generally, gasoline storage tanks adopt the form of internal floating roof tanks, whose safety performance is relatively higher. As its name implies, the floating roof of a floating roof tank floats upon the liquid level and up or down with the liquid level. This can greatly reduce the evaporation of gasoline and thus avoids the danger of explosion.
As a professional storage tank manufacturer, we can provide high quality custom internal floating roof tank, and a set of floating roof tank accessories like pumps, seals, vents and floating roof are also available.