Inspection for Tank Project from Our Nigeria's Customer
In August, 2015, We are honored to receive our client, a mechanical engineer from Nigeria. The company he works is an engineering company that provides engineering, management and consultancy services to the oil and gas industry in Africa.
The purpose of his business trip is to inspect their purchased ASTM A36 steel plates for the construction of two water tanks and one AGO tank in Ghana, one of the important projects of their company in 2015. What's more, he consulted our steel processing capacity, and hope to have further cooperation with us in the near future.
Accompanied by us, he carefully checked steel plate quality, grade and specification in the steel factory. And in the auxiliary processing mill, he talks with mill's engineer to know about the technology of blasting, painting,steel plate cutting, steel plate rolling and welding. He is confident of our future cooperation on steel plate processing after finishing his factory visit.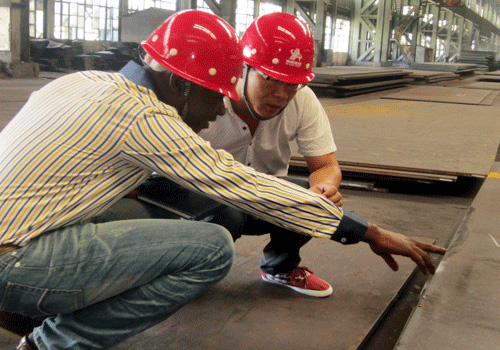 In the steel mill, we are discussing the steel plates.
During the meeting, we shows some of our engineering cases to him which includes steel plate rolling, cutting, and welding for different tanks in Papua New Guinea, Ghana, and Nigeria. And the engineer thinks highly of our capacity and expresses desire to co-operation in consequent tank project.
If you're interested in our products or have any questions, please click here to contact us! We are always at your service!